Mariska Hargitay Biography Pictures
Date of Birth
23 January 1964, Santa Monica, California, USA
Birth Name
Mariska Magdolna Hargitay
Height
5′ 7½" (1.71 m)
Mini Biography
Mariska (Ma-rish-ka) Magdolna Hargitay was born on January 23, 1964, in Santa Monica, California. Her parents are Mickey Hargitay and Jayne Mansfield. She is the youngest of their three children. In June 1967, Mariska and her brothers Zoltan and Mickey Jr. were in the back seat of a car when it was involved in the fatal accident which killed her mother. The children escaped with minor injuries.
Mariska majored in theater at UCLA but dropped out before graduating. Her first motion picture feature was the cult favorite, Ghoulies (1985), where she gave a memorable performance as Donna. She also appeared in Leaving Las Vegas (1995), credited as 'Hooker at the bar', and in Lake Placid (1999) as Myra Okubo. Her latest movie, Plain Truth (2004) (TV), in which she plays attorney Ellie Harrison will air in the fall of 2004.
In 1999 she was cast in the role of Det. Olivia Benson in "Law & Order: Special Victims Unit" (1999), the first spinoff from the excellent franchise of "Law & Order" (1990) (which also has two other spinoffs, "Law & Order: Criminal Intent" (2001) and "Law & Order: Trial by Jury" (2005)). This show deals with sex crimes and the detectives who solve these cases.
Mariska speaks English, Hungarian, French and Italian. She married actor Peter Hermann on August 28, 2004. They divide their time between New York and Los Angeles.
Gnepse Mini Biography By: Jeepo

Spouse
Peter Hermann (28 August 2004 – present) 1 child
Trivia
Daughter of Jayne Mansfield and Mickey Hargitay; younger sister of Zoltan Hargitay and Mickey Hargitay Jr., half-sister of Jayne Marie Mansfield (Jayne's daughter from her first marriage), Tony Cimber (from her mother's third marriage), and of Tina Hargitay (from her father's first marriage with Mary Birge, b.1949).
Replaced Gabrielle Fitzpatrick in Mighty Morphin Power Rangers: The Movie (1995) as Dulcea, but her scenes were re-shot with Gabrielle Fitzpatrick returning as Dulcea.
Speaks French, English, Hungarian, Spanish and Italian.
In June 1967 she and her two brothers were asleep in the back seat of a car when it smashed into the back of a trailer truck instantly killing her mother (Jayne Mansfield), the driver and Mansfield's boyfriend, attorney Sam Brody. Miraculously, the three children escaped with minor injuries.
Majored in theatre at UCLA, but quit shortly before graduating.
Has a zig-zag scar down the side of her head from the 1967 crash that killed her mother, Jayne Mansfield. She was only three years old when she was involved in the crash and has no memory of the event.
Won the Miss Beverly Hills 1982 pagent.
Measurements: 36-24-36 (Source: Celebrity Sleuth magazine)
Became good friends with Maria Bello when she had a recurring role on "ER" (1994) in 1997-1998.
Is of Hungarian and German descent.
On one occasion, she came upon a pregnant woman who collapsed while in New York City. When no one else came to the woman's aid, she lapsed into her character on "Law & Order: Special Victims Unit" (1999) while aiding the victim.
One of People Magazine's 50 Most Beautiful People (2005)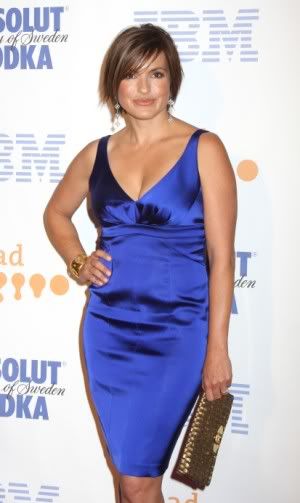 She learned to swim at the age of two and later swam for her high school.
Founder and President of a non-profit organization to aid the victims of rape – The Joyful Heart Foundation.
Former sister-in-law of Dana Hargitay, ex-wife of her brother Miklos.
Married Peter Hermann on August 28, 2004 at California's Unitarian Historical Chapel.
First woman ever from the Law and Order franchise to receive award nominations and wins.
Gave birth, via C-section to her first child, a son, August Miklós Friedrich Hermann (10 lb., 9oz.), on June 28, 2006 at 3:21PM.
One of People Magazine's 100 Most Beautiful People (2006)
Her father Mickey Hargitay died after a lengthy illness at the age of 80. [14th September 2006]
Following the family's acting lineage, Mariska has a cousin, actor Eddie Hargitay. Mickey Hargitay is Eddie's GodFather.
Spoke in 2007 for Girl Scouts of Greater New York Scholars Program about her career and how she became who she is.
One of People magazine's "100 most beautiful" (2008).
Godmother of her "Law & Order: Special Victims Unit" (1999) co-star, Christopher Meloni's daughter Sophia.


Has a partially collapsed lung, but condition is improving [January 13, 2009].
Her publicist is Gary Mantoosh.
Good friends with actress Hilary Swank. Hilary stays with Mariska when on location in New York.
Stepdaughter of Ellen Hargitay.
Friend of Angelique L'Amour, Jennifer Barker and Joely Fisher.
Personal Quotes
Everything has combined to make my life in New York an amazing experience. I told my manager a few years ago that I wanted to move here and try acting in the Theatre. Then this show came up. Now I'm in this show that means something to me and a lot of other people.
[Part of 2005 Golden Globe acceptance speech] "Fifty years ago my mother stood on this stage accepting this award. She was fortunate enough to have my dad with her. Fifty years later, I'm fortunate enough to have my dad with me. I love you, dad."
[On the disturbing aspects of "Law & Order: Special Victims Unit" (1999)] "When I read the script sometimes, it's like 'Christ! Enough!' I can't sleep at night sometimes. There's the occasional script that just hammers you, that you can't shower off."